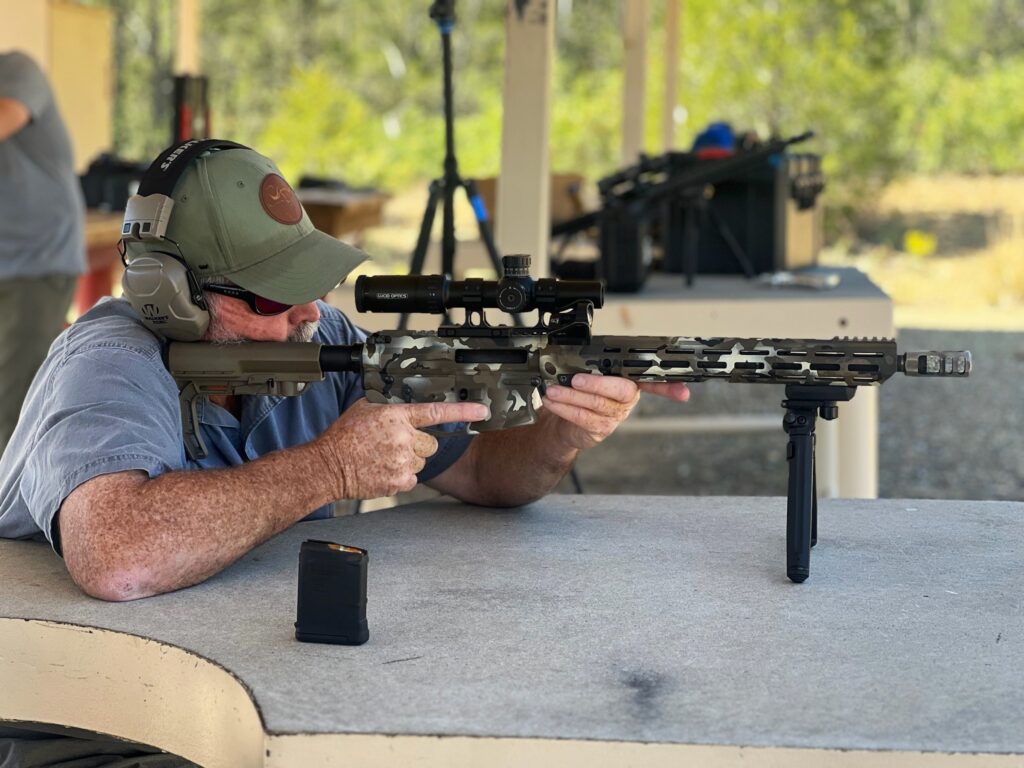 The 5th annual Lucid Optics Ballistic Summit was held yet again at the NRA Whittington Center near Raton, New Mexico for 2023. Located in the mountains of northern of New Mexico the Whittington Center, September is a great time and offers a cooler climate. This event is intended to give the outdoor/shooting media a front row seat to current and next generation products in the firearms and shooting world with the opportunity to go hands on with some of these products.
Lucid Optics, the sponsor of the Summit is based in Riverton, Wyoming and has become known for quality optics and related accessories at an affordable price as their motto "On Target, Under Budget" proclaims. Jason Wilson, founder and CEO of Lucid Optics rounds up numerous manufacturers associated with the shooting industry and organizes their stay at the annual event.
As always Lucid Optics has a new item or two to showcase and this year's event was no different. New from Lucid Optis is the E7 Reflex Sight for pistol, carbine or shotgun applications. The E7 sight is the first and only reflex sight on the market with a blue colored reticle. Sporting a high efficiency LED emitter provides a sharp M5 Reticle proven to be 30% faster to target than a standard dot.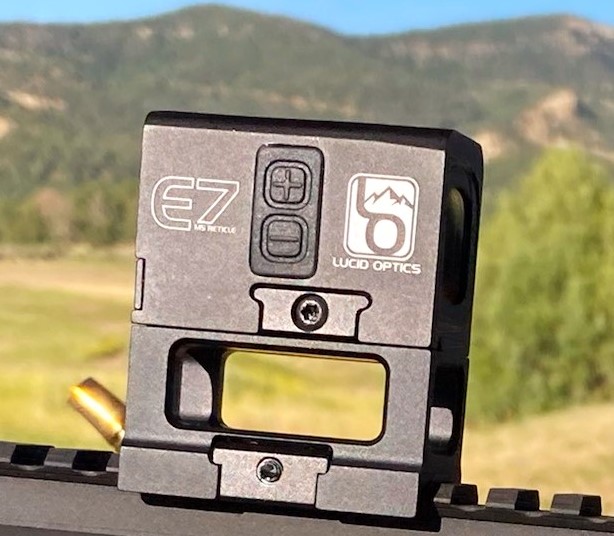 Lucid Optics E7 with Blue Reticle
Lucid Optics is the only company I am aware of using the color blue in some of their reticles. Although Lucid does offer the more common red color reticles in some of their optics.
This new optic will be available anytime now and will retail for around $300.
Other product lines from Lucid Optics includes:
You will find many other accessories such as magnifiers, scope rings, targets, quick release mounts, tripods and much more at lucidoptics.com.
Retten.1
Retten.1 was on hand again at this year's Ballistic Summit to discuss the application of a tourniquet if a major blood loss event occurs. If you are a defensive minded individual the Retten.1 company has developed the Weapon Mounted Tourniquet or "W.M.T". as it is better known.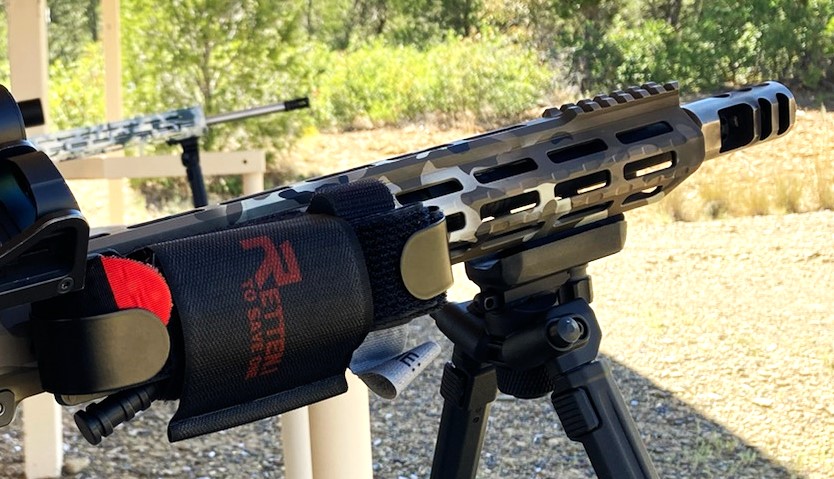 Weapon Mounted Tourniquet or "W.M.T"
Company owner Jason Kollander, has developed the system for a W.M.T. and its unique forend mount for any AR that will hold and carry the CAT (Combat Application Tourniquet). 
Sturdy aircraft-grade aluminum firmly holds the TQ in place. The unique design allows the shooter to stay hands-on with the weapon while easily accessing a TQ single handedly. The carrier could easily be mounted and used in multiple other ways and locations.
Even if you are already carrying a tourniquet, having a second one on hand is a good idea. In today's world every tool available in a threatening environment is worth consideration. Retail for the mount and a Generation 7 CAT (Combat Application Tourniquet) is $94.95.
Bilson Arms
Last year at the Ballistic Summit Bilson Arms  debuted their new pivoting butt stock that will fit on any mil spec buffer tube. The "Patent-Pending Pivotal Buttstock", comes complete with radial positioning indication and was designed to aid in angled shooting positions.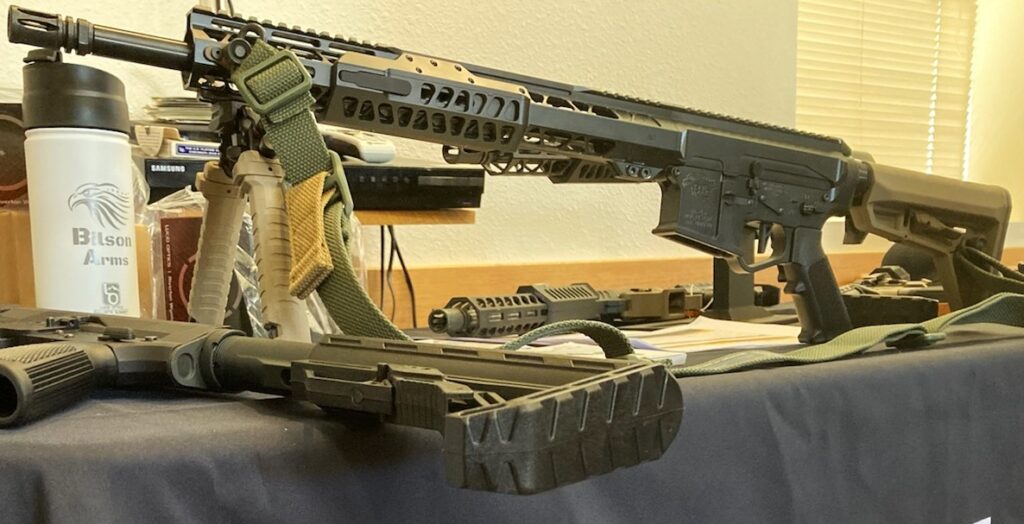 Bilson Arms Forward Charging AR-15
For 2023 Bilson Arms has really upped their game. The company has introduced a pistol caliber carbine, the BA-9FC in 9mm and the BA-15FC in .223/5.56. But what really unique about these two platforms is that they offer a forward charging system that works much like a pump action firearm.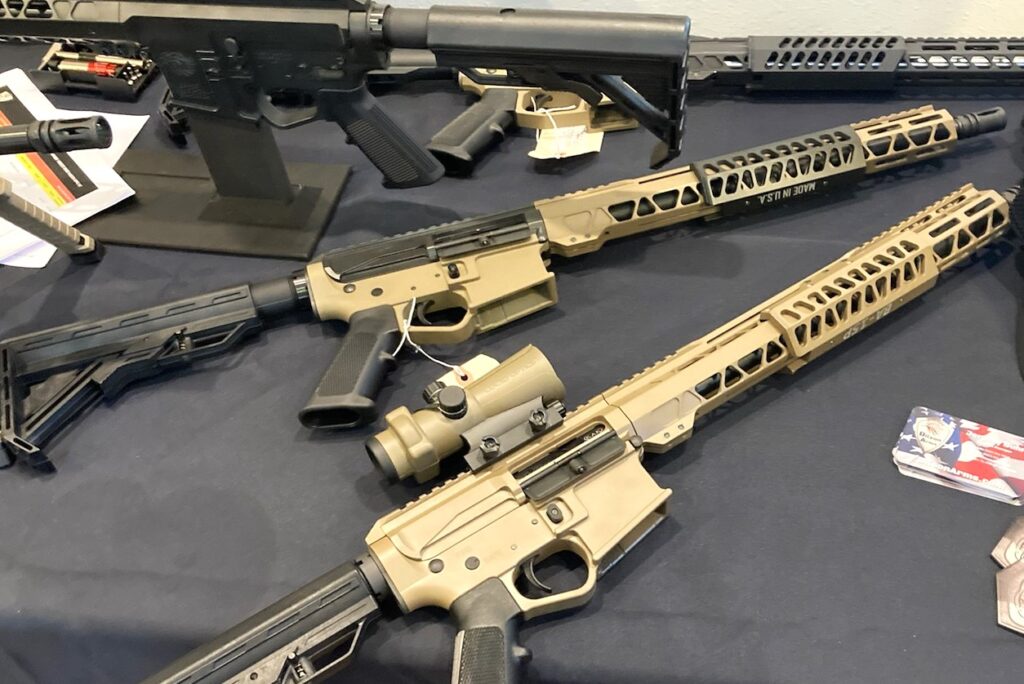 Bilson Arms Forward Charging Systems
The BA-9FC in 9mm operates as a semi auto with the forward charging system taking the place of the standard rear charging handle common on all AR platforms.
The BA-15FC in .223/5.56 operates as an actual pump action firearm where the forward charging system (forend) functions in the same manner as say a pump action shotgun.  
In essence the new "Forward Charging System" allows the shooter to charge, recharge, and clear the cartridge from the chamber without removing the eye off the target. This is accomplished by simply running the forend to the rear with your support hand to charge or load the chamber. A very unique design to say the least and one that will give shooters different option for utilizing a AR platform carbine. 
APF Armory
Interested in a hunting caliber in an AR platform? Or maybe an AR for long range, competition, self-defense or law enforcement? Then you will want to check out APF Armory with 32 calibers and a wide selection of AR models to choose from.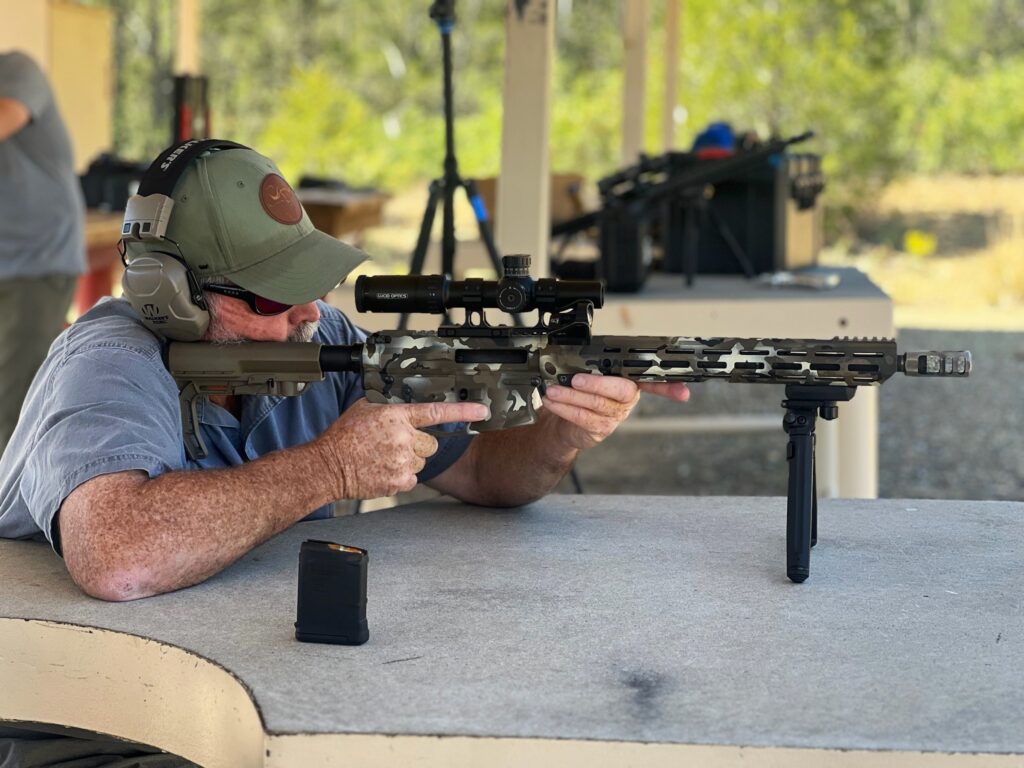 On the Range with APF's new Elie Series LTR
APF (Alex Pro Firearms) offers AR models in pistol, carbine, varmint, target, magnum long rifle, hunter, DMR (carbon fiber), and law enforcement specific use (over 100 law enforcement agencies in the US are utilizing APF firearms). 
New for 2023 is the Elite Series LTR or Lightweight Rifle. It is currently offered in two calibers, .223 Wylde, and 6mm ARC. This new platform from APF sports a 16″ PROOF RESEARCH Carbon Fiber Barrel, Elite Series Muzzle Brake, a 15″ MLOK Handguard, a
Timney Impact 3-4lb Single-Stage Straight Trigger and a Ambi Safety Selector among other great features. All in all, this new carbine is coming in at under 7 pounds in its weight class.
Another hot ticket item from APF this year is their AR platform in 22-250 caliber and is a must for varmint hunters.
In a nutshell APF specializes all of you AR platform needs to include: firearms manufacturing, suppressors, receivers, bolt carrier groups, muzzle brakes, handguards, barrels and much more.
PyramydAir
PryamydAir, a top-of-the-line outdoor products company that offers everything from air rifles to offroad Ebikes. According to the company website they have "been on a mission since 1996 to help all of our customers rediscover the outdoors through the delivery of stellar products, knowledge, and service, ensuring safety and guaranteeing limitless enjoyment. Our No. 1 goal is to make sure you have the right products for your needs".
One of PryamydAir's top products is  AIRFORCE Airguns and representative Ton Jones was on hand at the 2023 Ballistic Summit demonstrating several versions of AIRFORCE Airguns. Some of these airguns can fire a 350-grain projectile over 1000 feet per second. Many are used today for big game hunting!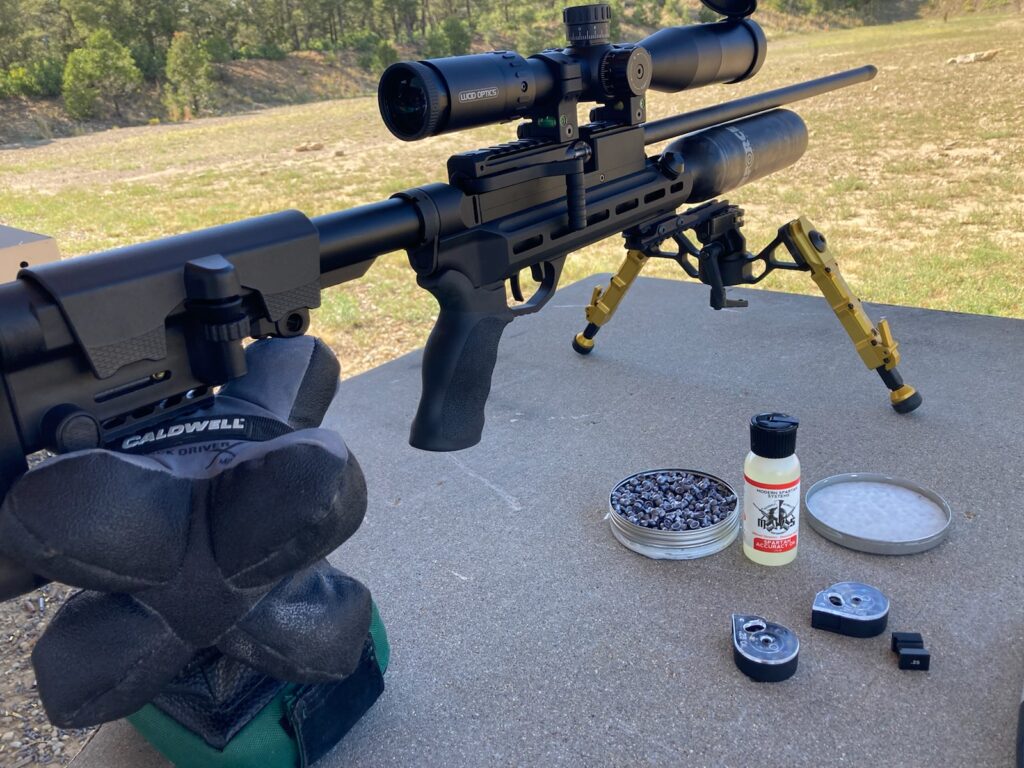 A Precision Airgun from AIRFORCE Airguns
AIRFORCE Airguns provide a flexible platform designed to meet a wide variety of shooting needs in the airgun world. Many models and calibers are available to include target, hunting and competition.
Wonder if today's airguns are capable of firing at long distances? Click on the following link to watch Ton Jones make a new world record airgun shot at this year's Ballistic Summit using the AIRFORCE Texan .308 Big Bore at 2058 yards, or 1.7 miles if you prefer. Wow is all I can say!
Accurate Mag
Accurate-Mag Products is the world's largest producer of precision bolt action and sniper rifle components. The company builds custom magazines, folding stock systems, custom chassis systems, competition gear and much more.
One of the coolest items Accurate Mag showed off at this Ballistic Summit event was their Advanced Muti-Caliber Sniper Rifle or AMSR.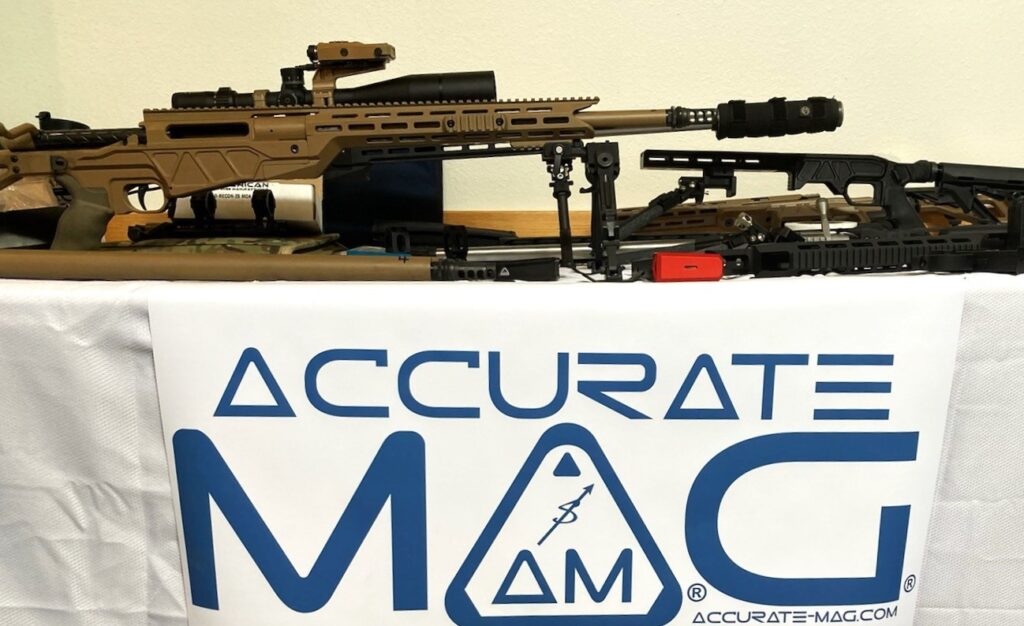 The Advanced Multi Caliber Sniper Rifle from Accurate Mag
The AMSR provides user flexibility with its multi-caliber design, allowing on demand caliber changes with a single Allen key wrench. The AMSR folded will fit into a 26" case complete with the scope mounted and up to three caliber change kits with magazines and toolkit. The trusted quad-lock action assures demanding accuracy from a turn-bolt system.
Accurate Mag offers both Military/Law Enforcement and a hunting version of the AMSR with current calibers offered in .308 Win, 6.5 Creedmoor, .300 Win Mag, .300 Norma, .338 Norma, .338 Lapua Mag, or similar calibers with verification. Magazine systems currently offered in Double Stack, Single Feed (DSSF) 5 round with more configurations available soon. 
I watched the Accurate Mag team switch out the barrel system on the AMSR while on the range at the NRA Whittington Center and can say that it is a very simple process taking less than two minutes!
Another good reason to check them out…Accurate Mag components are held to military grade specifications and are 100% made in America.
Avidity Arms
If you have not heard of the Avidity Arms PD10 pistol designed by Rob Pincus and built with everyday carry in mind its time you check it out.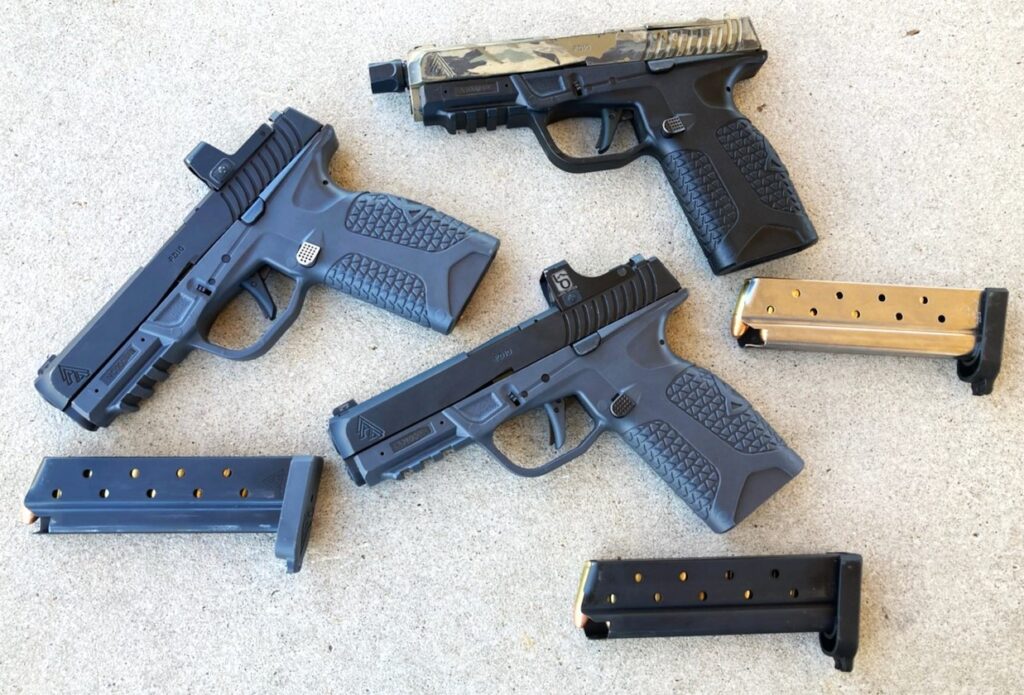 Model PD10 by Avidity Arms
The PD10 is a striker fired 9mm that comes numerous features optimal for a serious carry gun:
Ergonomic Slim Grip
Deep Tang
Aggressive Grip Pattern
Accessory Rail
Safety Index Point
Contoured Slide Stop
Slide Stop Standoff
Aggressive Slide Serrations
Loaded Chamber Indicator
Captured Recoil Spring
Large Square Front Sight from AMERIGLO
Magazine Extraction Relief Cut
Flared Magazine Well
Drop Free metal magazine
Claw Feature on Magazine Baseplate
Claw Emergency Manipulation Rear Sight
Gray Frame decreases chances of accidental exposure
Oversized Magazine Release
Undercut Trigger Guard
Steel Trigger-Tab Safety
Striker Blocking Drop Safety
Angled Trigger Face
Low Variance Trigger with Short Reset.
Slide Cut for Red Dot Sight (PD10-OC Model Only)
The P10 is only 1inch in width with a 4-inch barrel, and weighs 18.8 ounces. This pistol comes with two stock magazines (10 round) and can be ordered with an optics ready slide cut as an option.    
We ran this pistol hard at the Ballistic Summit and found that it can no doubt hold its own with bigger name brand name pistols and will offer a serious option for today's concealed carry market.
Tactical Night Vision Company
Looking for top of the line night vision equipment? Look no further than Tactical Night Vision Company or TNVC.  The company is made up of former and current military and law enforcement personnel who understand and appreciate what it means to have dependable gear when going into harm's way.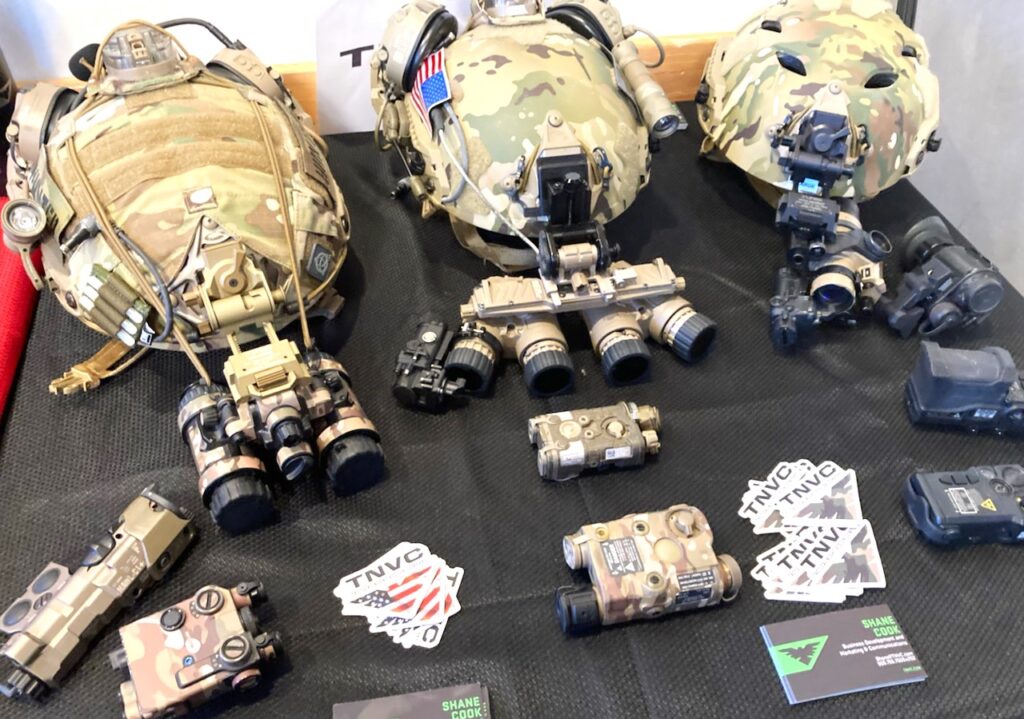 Night Vision Products from TNVC
On the company website you will find the following promise: "We will never compromise in bringing you the best equipment available. We pride ourselves on understanding your needs as professionals and intentionally do not feature every night vision device available on our website, we only sell what we'd bet our lives on."
I was fortunate to try out several models of the night vision optics from this company while at the Ballistic Summit. Testing was done on one of the higher and more mountain surrounded ranges and with no moonlight.  A few words that come to mind while trying various models from TNVC is: stunning, awesome, and WOW!
TVNC can provide training on their equipment that can range from lasers, to thermal optics, to light systems, to helmets and everything related aside from actual night vision gear itself.
If you have the need for any of this type of after dark vision products…TVNC is the place to start!
Modern Spartan Systems
Looking for ground breaking gun lubrication and accuracy enhancing products? Then look no further than Modern Spartan Systems.

Modern Spartan Systems Gun Cleaning Offerings
This company offers a wide range of products that optimize metal and maximize performance. Modern Spartan offers lubrication and enhancement products for firearms, fishing reels, knives/blades and automotive needs to mention but a few.
According to the company representative, Spartan products can: improve accuracy in firearms while increasing reliability, performance, product life, and add to lower maintenance costs and corrosion resistance of any metal based outdoor equipment.
10th Mountain Whiskey and Spirit Company
Many an outdoors person enjoys a smooth Bourbon, Brandy or Whiskey at the end of a long day's hunt or outdoor excursion. Why not support a company whose name precedes them?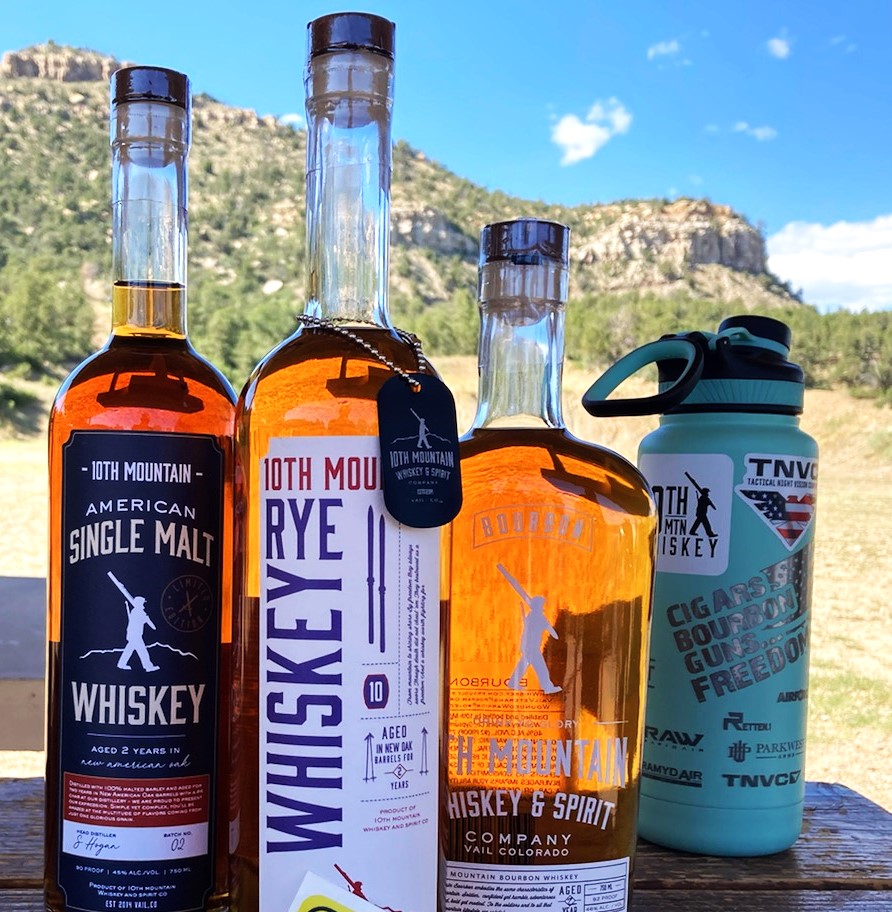 10th Mountain Whiskey and Spirit Company
The 10th Mountain Whiskey and Spirit Company is named after the well-known and highly respected 10th Mountain Division of the US Army. They were on hand at this year's Ballistic Summit to allow all attendees a taste of their spirits…after range times of course.
On the company's website you will find the following statement: "The patriotic men of the 10th brought diversity, courage, and hope to the Rocky Mountains when they arrived in the 1940s to train just a few miles south of what is now Vail, Colorado.  They were part of the greatest generation of men, wanting to make each day count and each day better than the last.  The mentality they had was strong after being shaped from the rigors of mountain warfare, their egos humble."
A profound and well-earned statement about the 10th Mountain Division indeed.
Final Thought
Well, that's all folks, an overview of products offered at the 2023 Lucid Optics Ballistic Summit held at the beautiful NRA Whittington Center of northern New Mexico. Please support these companies and other gun industry products across the nation. They and you are keeping shooting sports and the 2nd Amendment alive and strong!
About the Author:
TERRY NELSON – is a 30-year veteran of law enforcement with police and sheriff agencies, including SWAT and sniper roles, and has served as a state game warden. Nelson also served seven years with New Mexico State Guard. A lifelong hunter, guide, tracker and firearms enthusiast, Terry is sought for training in multiple disciplines by both civilian and police-serving agencies and companies. Nelson also holds a Basic Tac Med instructor certification from Federal Law Enforcement Training Center.